Au Chi Fai flew the Secret.
CD was Tuba Wong. Co-CD was Kenneth Chan and Li Man was the helper. Kenneth said he didn't like to fly in bad weather so he simply left his plane in the car and quited this match!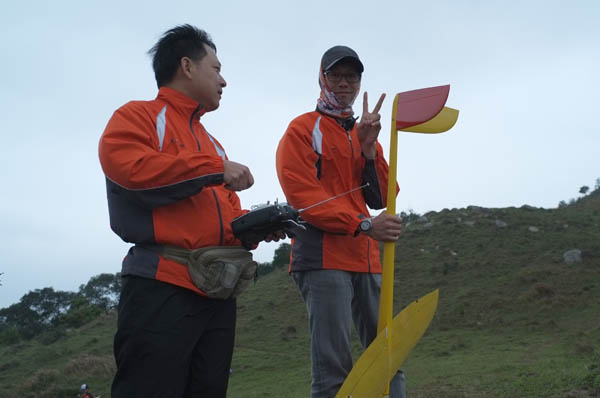 Leung Chi Wa helped KY Mak to launch his old trusty Aris.
Mak, what made you so happy?!
Launch queue . . .
Mak and Aris.
It was actually a powerful launch by Leung Chi Wa, only the photographer (me, LOL) can't capture the moment.
Philip and his Alliaj HM.
Johnson (left) handed his Pike to Wing for take off. but...
... hey, Johnson, do you know that one of your rudders is off center?
This is CM Lau, the only guy who've got a penalty in this match! What did he do? Well, he flew his plane into the annemometer pole and broke it into pieces. He should be penalized $100 in addition to the 100 points! HA!!
Au Chi Fai.
Johnson and his Pike Precision.
(Because of the rain we had to leave fast and so there was no photo taken for the winners)
More photos and videos on
rcsail.com forum